Below is a list of the inclusions we generally provide with your new home.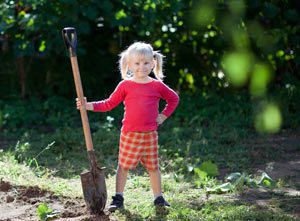 PRE-CONSTRUCTION
Master Builders
Residential Building contract
Plans and specification
Engineers soil test and structural footing design
Council building and application fees
Insurances including construction and public liability
Home Warranty insurance
QLeave – Portable Long Service Levy
Colour consultant
SITE WORKS & FOUNDATIONS/POSTS
Site works allowance of PS$2,500.00
Scaffolding allowance based on site fall of 2.5 meteres over building platform
3 metre allowance for bored piers to footings
Standard M class site
Rock excavation incurs additional cost
Excess soil to be left on site or spread if applicable
N3 wind rating
No allowance for retaining walls
Note we use Dura Gal steel posts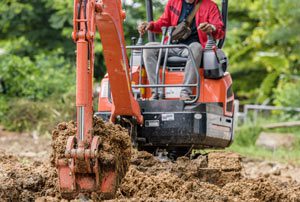 EXTERNAL WALLS
H2 treated pine frames and trusses 600mm centres
Mixture of: Shadowclad/Texture 2000 – generally 80% (painted)
Fibre cement with cover mouldings over joins – generally 20%
Colorbond claddings – by request
Wall sisalation paper

ROOF
Colorbond roof sheeting on metal battons
R1.5 insulation blanket to underside of roof sheeting
Colorbond metal fascia and slotted quad gutter with 90mm PVC downpipes painted
Lined fibre cement eaves and deck ceilings

BATHROOM, ENSUITES & TOILETS
Accessories – PC Allowances
Kohler Calypso semi recessed basins PC$300.00 each
Clear laminate framed pivot glass shower screens – standard colours
Arto sj 170a PC $445.00 each
Mirrors 1000mm high to width of vanities
Tiled shower bases to match floor tiles
Kitchen sink flickmixer PC$600.00 each
Kitchen sink PC$600.00 each
Clarence wall faced toilet suites PC$700.00 each
Hansa Vantis flick mixers PC$300 each
Hansa Nova Jet shower roses PC$300 each
Towel rails PC$99 each
Toilet roll holder PC$70 each
Laundry tub PC$230.00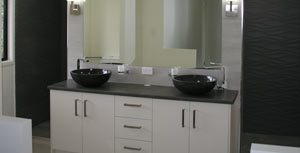 PLUMBING
25 lineal metre water connection 20mm diameter poly pipe
Storm water and sewerage allowed for – block must be serviced with local council sewer connection available base on 1000m2 block
2 external taps
Hot water tempering valves per council requirements
Gas Instantaneous 26 hot water unit
KITCHENS, VANITIES & APPLIANCES
Kitchen Vanity's and other cabinetry inclusions, we only use the highest of quality products in our cabinets
Hinges and runners Blum
Soft close doors and drawers Blum
Bench tops laminate Laminex, Wilsonart, Lamicolor, Formica
Other bench tops Caesar Stone, Quantum Quartz,Smart Stone and a range of natural granite
Doors Melamine, Vinyl wrap, 2-pack, timber
Carcass 16mm HMR white with solid 16mm back
Handles Select range of metal and stainless handles
Brushed steel kick bases
In house computer design
Laminex cupboards with post formed tops
Overhead cupboards if indicated on plans
Blanco stainless freestanding 900mm oven with gas cooktop $2350
Blanco stainless steel 900mm canopy $800
Blanco 8s stainless steel sink $495
Vantis flick mixer $165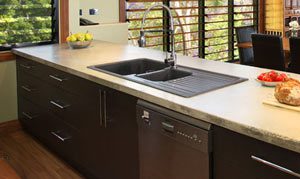 INTERNAL FINISHES
2.4m (8′) ceiling height or as per plans
Plasterboard walls and ceilings on metal battons with 50mm cove cornice in wardrobe's linen
Entrance door PC$700.00 each
Internal doors Corinthian Readicoat flush panel – hinged
Door furniture: Gainsborough Tri-lock to entry doors, Gainsborough Form to internal doors
Splayed 42mm architraves painted pine, splayed 68mm skirtings painted pine
Painting 3 internal colours 3 coat system

WINDOWS & DOORS
G James Aluminium powder coated colours from standard range
Tinted glass (grey)
Keyed locks to sliding doors
Fly screens

FLOOR COVERINGS
Tongue groove polished hardwood floor to all living, kitchen, family and hallways PS$155.00m2
Carpets to bedrooms PS$40.00m2
ELECTRICAL
10 lineal metres of underground mains
Switch board and meter box
1 light point allowed to each room
Three external light points
25 double power points
5 single power points
2 TV points
2 phone points
Smoke detectors to comply with council requirements
Earth leakage safety device and safety switch
Light fitting allowance PC$2000.00
MISCELLANEOUS
House clean internal and external
Site clean building debris
Maintenance period and statutory structural guarantee period
House designs available as elevated, slab on ground or split level
Driveways, paths, landscaping by owners
TILING
Allowance PC$40 per square metre trade price
Bathroom and en-suite to floors indicated on plans
To showers 2.0 metres high – 3 tiles high above bath – skirting tiles to perimeter
No frieze tiling, diagonal, inlay patterns or borders allowed for
Tiling size based on 300 x 300mm on floors
Larger on walls
FLOOR COVERINGS
Tongue groove polished hardwood floor to all living, kitchen, family and hallways PS$145.00m2
Carpets to bedrooms PS$40.00m2
Brochure Download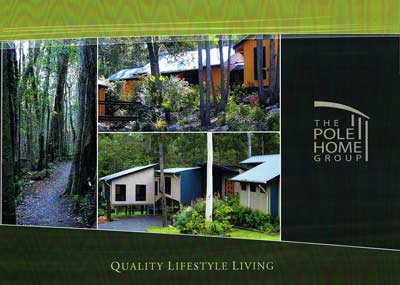 Before You Build
Things You Need to Know
Got Some Questions?
Message Me Now!
Note: The above list of inclusions contains prices that are subject to change. The list on the website is a guide only and is designed to give you an idea of our typical inclusions. The Pole Home Group will discuss inclusions and costs with you as a part of your individual concept design and this information will be included in your contract.  If you have any questions please ask me. I won't hide anything – I am here to help you!
Contact Me now to discuss how The Pole Home Group can create the lifestyle you've been looking for.