Are there any extra or hidden costs to build my new pole home?
My short answer is, NO, definitely not!
And here's why.
We are entering a relationship where you are trusting me with the responsibility to build your beautiful new home. I respect this completely because I know building a new home is one of the biggest investments we ever make. There's a good chance your family will grow up here and there will many major life events happen in your home. So I want to build you the perfect home, to suit you and your family's lifestyle.
From our very first meeting, which is always onsite, you will have my complete honesty. And like any relationship, I expect your honesty in return. With your honest budget we can begin the design process and in return I can give you honest appraisal and home design that best fits the site and your requirements. Click here to read the design process.
I don't want to build just any home for you, I want to build the best home I can that meets your budget and is exactly what you want. And you shouldn't need to make compromises either. My standard inclusions ensure your home is finished to the highest standard with quality fixtures and fittings so you don't need to make compromises.
When we follow my proven design process and we're completely honest with each other, there will be no nasty cost surprises during or after your new home build. When we walk out of your home on completion, you can back the truck up, move in and start living – and we have never missed a handover date in 30 years!
To discuss this or anything else I can help you with, please don't hesitate to contact me.
Kind regards 
Craig Neilson
Phone: 0408 727 755
Email: info@polehomegroup.com.au
Brochure Download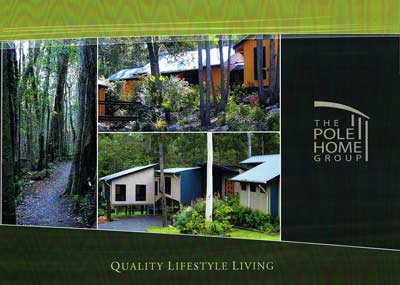 Before You Build
Things You Need to Know
Got Some Questions?
Message Me Now!
Contact Me now to discuss how The Pole Home Group can create the lifestyle you've been looking for.